NEXT AT THE HURDY GURDY
Joe Jencks and Si Kahn
March 3, 2018
8 pm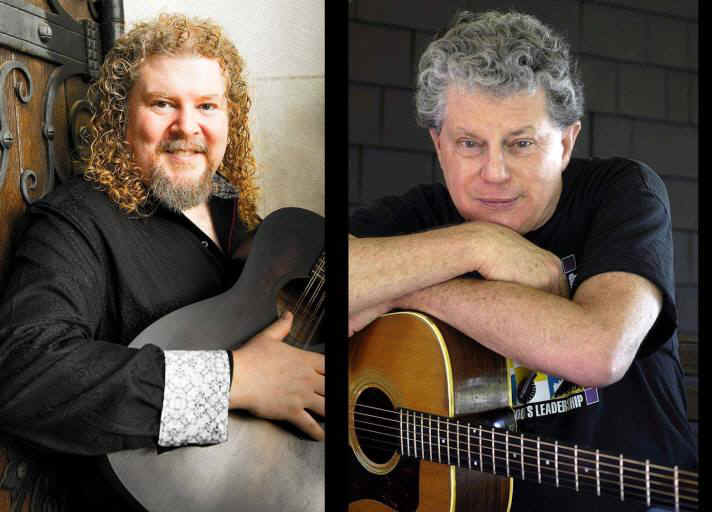 For our March concert, we have, performing together, Joe Jencks and Si Kahn.
Chicago-based Joe Jencks is an award-winning songwriter, a noted vocalist and an 18-year veteran of the international folk circuit. His music blends his Irish roots and working-class upbringing with conservatory training. His songs reflect heart, soul, grove and grit, inspired by a strong social consciousness and spiritual exploration. They combine his rich baritone voice with well-crafted instrumentals and vivid song writing, focusing on the wide range of human experiences.
A co-founder of the harmony trio, Brother Sun, Joe has written several folksongs, that have risen to number on the charts, including the ever-relevant "Lady of the Harbor." From Festivals like Falcon Ridge, Kerrville , Mariposa, and Old Songs, to venues like Lincoln Center and Carnegie Hall, Joe has enthralled audiences with his approachable style and depth of musical knowledge. His newest solo CD, "Poets, Philosophers, Workers & Wanderers," honors his mentor and friend, Pete Seeger, with the title track. Released in May 2017, the disc immediately rose to number 1 on the Folk DJ Chart and also on Sirius XM's Americana Chart.
Si Kahn is a singer-songwriter, who has worked for more than five decades as a civil rights, labor, community organizer and musician. Although his songs reflect a variety of topics, he is best known for those that are about workers and their families, like "Aragon Mill." In 2017, Folk Alliance International awarded him their "Spirit of Folk" award for his achievements as an organizer and as a folk musician. When he performs, he accompanies himself on a steel-string guitar played with brass finger picks. In 2013, he released his 17th and 18th CDs, titled "Aragon Mills, The Bluegrass Sessions," and " Bristol Bay ," respectively.
Si's talents and social consciousness were nurtured from an early age by his grandfather, his mother and his father, who was a rabbi. They instilled a strong sense of the family's Jewish heritage and taught him the rudiments of rhythm and harmony. His uncle, Arnold Aronson, executive secretary of the Leadership Conference on Civil Rights, helped to inspire and shape his career. A graduate of Harvard University , he began his organizing career in 1965 with the Student Nonviolent Coordinating Committee (SNCC.) During the "War of Poverty", he served as a VISTA volunteer and as deputy director of an eight-county community action agency in Georgia, where he also coached the first racially integrated Little League team in that part of the state. He worked with the United Mine Workers of America (UMWA) during the Brookside Strike in Harlan County, Kentucky, and with the J.P. Stevens Campaign for the Amalgamated Clothing and Textile Workers Union (ACTWU). These historic labor struggles are portrayed in the movies Harlan County U.S.A. and Norma Rae. In 1980, he founded Grassroots Leadership, a Southern-based national organization and served as its executive director for 30 years. A resident of Charlotte , NC , he is currently a Distinguished Senior Fellow at Demos: A National Center for Ideas and Action, and Executive Director Emeritus of Grassroots Leadership