NEXT AT THE HURDY GURDY
Susan Werner
with special guest Sophie Buskin
Saturday, April 6, 2019
8:00 pm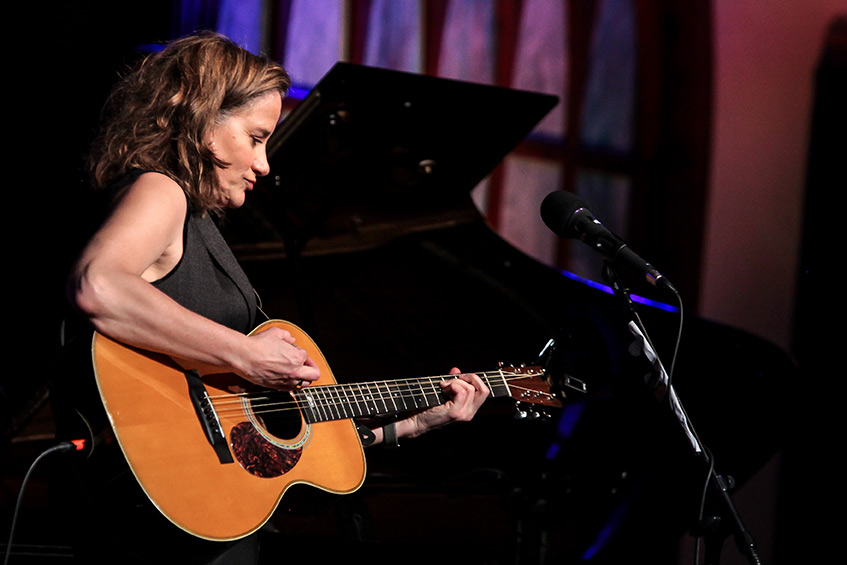 Singer-songwriter Susan Werner has earned numerous accolades for her vocal prowess, her impressive skill as both a guitarist and pianist, and her ability to compose sharp, funny and compassionate lyrics. Although classically trained and inspired by jazz, she has built an impressive career as a contemporary folk singer.
Raised on her family's farm near Manchester, Iowa, Susan became interested in music at a very early age. She performed publically for the first time when she was five years old, playing guitar and singing at her church. At age 11, she began playing the piano. In high school, she played saxophone in jazz combos and sang in musical productions. She went on to earn a degree in voice at the University of Iowa. She then moved to Philadelphia to study opera at Temple University.
Susan initially wanted a career in opera but changed her mind after seeing Nanci Griffith perform. She began to compose songs and to perform them on an acoustic guitar in coffeehouses in Philadelphia, Boston and New York City. Her eclectic style helped her to earn recognition as an accomplished folk singer in the early 1990s. Between 1993 and 2001, she released five albums. Another ten have followed. The most recent is "NOLA: Susan Warner Goes to New Orleans."
Among Susan's artistic influences are, in addition to Nanci Griffith, Jacques Brel, Thelonius Monk, Joni Mitchell, Sting and the jazz diva Shirley Horn. Some of her recordings reflect these influences with original material paying homage to Tin Pan Alley, cabaret and jazz torch songs. She branched out further when she wrote the music and lyrics to a play based on the movie Bull Durham.
Sophie Buskin, Brooklyn-based singer-songwriter, has been performing professionally since age 4. The daughter of two musicians, she has appeared with her father David, a member of the folk group Modern Man and one-half of the noted folk duo, Buskin and Batteau. Sophie has an extensive background doing jingles and ads, and has sung backup to such artists as Paul Shaffer, Little Anthony, Mason Jennings, and Jewel. She recently released her first CD, "Sweet Creature." This six-song compilation blends her dynamic musical ability with mature songwriting about love, loss and life's impermanence